[ru] Устанавливается рекорд продолжительности непрерывной видеозаписи ТВ. На данный момент уже записано 12 часов, 1.1 млн кадров.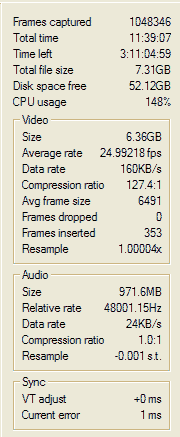 While experiments at Large Hadron Collider are frozen till spring, I've got into my own experiment: setting a record on continuous video recording.
Today my MGM TV channel subscription had to expire. I decided to leave a remembrance of the channel by recording a night's worth of movies.
I've set up VirtualDub to capture PAL video stream 720×576 from Composite video and encode it real-time in DivX (1-pass quality-based, quantizer 4) 576×464 @25fps deinterlaced with 48kHz 16bit audio in MP3 @192kbps.
To my surprise, the TV subscription did not end. (Or the "end" doesn't come into effect until after a user flips channels away from expired ones? It's DVB-C Conax.) Anyway, I thought, fine, let it record until HDD's full.
So far 12 full hours of video has been recorded, file size 7.6 GB.
Looks like I've got a day-off from news – cannot switch channels!
UPDATE
After 21 hours and 16 minutes into recording the STB displayed a message
Scrambled Channel
Smart card not paired
and refused to show the channel again. All other channels continued to work just fine!
Re-inserting the card didn't help. It took as much as cold STB restart to restore this one channel.
Do they care I watch only my single favourite channel as long as I pay for the whole pack?
Or is this a kind of protection against small illegal re-broadcasters?