[en] Eee PC 901 screen seems awful, the keyboard is similar. But the worst part is the built-in BT is not compatible with stock Linux Xandros when it comes to EDGE. So is Samsung NC10 an alternative?
После Twinhead Slimnote 486DX/33 я думал, никогда больше не обзаведусь ноутбуком. Начиналась мода (и производители переключились) на мощные супер-компьютеры с возможностью перевозки в автомобиле. Только недавно снова появилась перспектива получить лёгкий аппарат без наворотов, не требующий ограбления банка, и позволяющий работать с основными современными программами.
Вот купил ASUS Eee PC 901.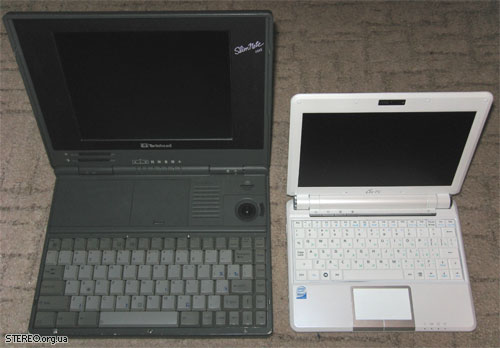 По сравнению с Twinhead получилось в 64 раза больше оперативной памяти (1024 МБ вместо 16), в 48 раз выше частота процессора и в 60 раз больше внешней памяти.
Пикселов на экране стало всего в 2 раза больше, квадратных дюймов вообще не прибавилось, зато они стали цветными и в пару раз увеличилось время автономной работы. К тому же, работу стало возможно разбавлять фильмами и музыкой.
Игрушка понравилась, но проявились косяки.
Continue reading →