[ru] Найджел Шорт учит, как нужно проигрывать. Борьба была неравная: Сергей Карякин, шахматист №15 по версии ФИДЕ легко справился с номером 58, который приехал за тридевять земель за поражением.
Nigel Short, 43, a chess Grandmaster for the last 24 years has lost in a friendly match 2½ : 7½ to 18-year-old Ukraine's Sergey Karjakin.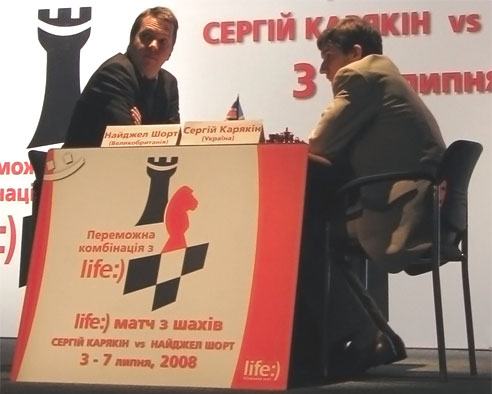 It surely wasn't easy for Short (FIDE rating 2660, No. 58 in the world list) to accept the defeat, but the match which was held at the
Puppets Theatre
in Kiev, Ukraine did not affect participants' rankings, neither it received any coverage in major media, so it didn't hurt really to come to a
life:)
mobile operator sponsored event for a bit of public performance.
Still, Short, though considered the strongest British player of the 20th century, lost to the world's No. 15 (Sergey Karjakin's FIDE rating is 2727, he became a Grandmaster at 12 – the youngest GM in chess history). And this was quite expected probably.