[ru] Новый флагман Nokia N97 - практически типичный КПК: такой же тяжелый, с теми же старыми технологиями. Только экран меньше.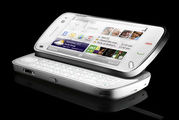 So… In the midst of the world economic turmoil Nokia, whos shares are deeply in red, revealed a new product – the new N-series smartphone N97.
But is it that new? What are real advantages to an average pocket pc?
Same weight at 150 g, same battery of 1500 mAh, same 3.5 mm headphones jack, Wi-Fi 802.11b/g, Bluetooth 2.0 and A-GPS. Same 5 megapixel camera and microSD capability. All the same.
Only the screen is SMALLER.
At 3.5 inches a wide screen has noticeably less squarage than a standard one with 4:3 aspect.
Of course, 32 GB built-in storage is nice, but Nokia is famous for crippled transfer speeds even in top devices, so it's gonna take patience to make use of all that space. Also keep in mind, N97 should be expected in stores no earlier than in mid-2009. By then, 32 GB ain't gonna impress that much.
Still, N97 price ($690) is sweet, especially in the prospect of unwinding inflation in 2009, so this new gadget definitely has future.