[ru] Минидиск Сони уходит со сцены. Его замещают более практичные рекордеры на флэшках, без движущихся частей.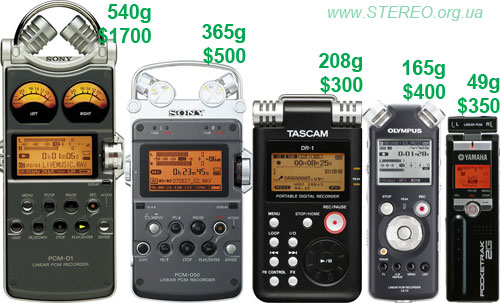 The lineup above may still seem surreal to many.
A decade of dominion by Sony's MiniDisc over portable recording realm set a trend: If you need high quality audio recoding in the field – get MD!
So when Sony introduced Hi-MD with CD-quality PCM recording in 2004, MD followers proclaimed total rebirth of the format and predicted another decade of rein.

Appearance of one of the first solid-state portable recorders, Roland's Edirol R-1 only reinforced certitude in MD's power: R-1 was big, clumsy, inefficient on batteries, and very expensive in both main unit and additional storage flash memory prices.
2005-2006 promised big for Hi-MD
Sony released new top model MZ-RH1 Linear PCM Hi-MD recorder lifting most of Sony Music DRM nonsense for general consumers which plagued MD from the beginning in early 90s.
Priced at $300-$400 it spoke clearly against new Sony's own flash based "pro" PCM-D1 Digital Field Recorder ($2000, first on picture).
Roland, however, came out with its updated Edirol R09, which is a hit to the day ($400 without memory cards). A bit less known maker M-Audio echoed Roland by cheaper MicroTrack 24/96. Still the market was deeply infant.
Enter cheap flash
Only now, as flash memory prices dropped below $10/1GB any real development could take place. And it took.
No, Sony didn't lower price for its gorgeous PCM-D1, it still sells for almost $2K. However, they stripped those fancy analog meters and announced the resulting PCM-D50 for only $500 (2nd on picture). Apparently it's got everything from its big brother except the meters and the corresponding 6oz. of weight. It features:
Built-in high-quality electret condenser stereo microphones, sensitivity -35.0 dB/Pa 1kHz – only 3 dB less sensitive than PCM-D1, but with the same noise floor of 20.0 dB SPL (A)!
Signal-to-Noise Ratio 93 dB
Built-in flash memory 4 GB
Good build quality of metal body
Digital optical output
Powered by 4 AA batteries
In addition to D1 the mics of D50 are selectable between 90 degrees X/Y and 120 degrees A-B stereo
Sony, founder of the niche of portable recording (all started rolling with the invention DAT, predecessor to MD) was very timely having offered a more affordable unit as a number of unexpected players entered the field.
Tascam has been known for rack MD and other recorders. Now it expanded into portables realm. Tascam DR-1 (center on pic) looks very nice:
24-bit recording
"only" 44.1kHz sampling rate, which is more than enough in real life applications
SD Card media is half the price of Sony's proprietary Memory Stick
1 GB card included
Built-in unswappable battery, the only notable disadvantage of Tascam DR-1, was likely the cause for price dumping. (BTW MicroTrack costs same $300 and features same battery drawback. Looks like internal Li-Ion is a big no-no in pro world.)
Real surprises ahead
Olympus, tainted by its involvement in trendy dictaphone market (as a byproduct having marred everything-flash when related to HQ Audio), gave absolute surprise. Olympus LS-10 Linear PCM Recorder (next to last on picture) is SO different from those silver sticks:
24 bit/96 kHz linear PCM recording – simply unbelievable for a WMA/MP3 adept
high-quality microphone amplifier
2 GB built-in memory
SD, SDHC Card support (No XD in Olympus! Can you imagine that?)
2xAA power
Still, the presence of WMA recording option tarnishes the developing image a bit. And a price tag of $400 is somewhat high for a market newcomer.
Finally, Yamaha, whom we know for heavy duty rack audio gear (including MD recorders) and big speakers, amazed with world's smallest CD-quality Yamaha POCKETRAK 2G pocket recorder. For mere 49 grams (incl. batt!) it gives you:
16/44 "full-CD" Linear PCM recording
High-sensitivity Tilt-up Internal Stereo Microphone
9 hours continuous PCM recording with 1 AAA!
2 GB built-in memory, no add-on card support
USB 2.0 Computer Connection
Studio Connections Integration
Now, is there somebody out there wishing to buy the latest model of a Hi-MD recorder?
Only $400.
Anybody?