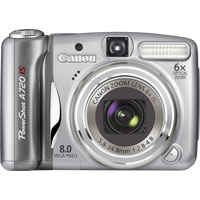 Canon PowerShot A710 IS digicam being arguably the most (outwardly) cool compact yet usable digital camera in Canon's A series is now "updated" in the product line-up by 0.9 megapixel + Face Detection upgrade A720 IS.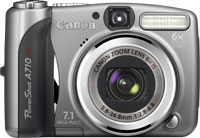 But with the very minor upgrade we are faced with definite downgrades from A710's advantages.
Going from A710 to A720 we get:
A720's Pros:
video length constraints lifted: from 8 minutes to 32 minutes
8.0 megapixels instead of 7.1 (only 12% increase, and the CCD image sensor remains overly small at 1/2.5″)
10% increase in battery performance (from 360 shots per charge to 400, like in A570)
4% weight loss (from 270 g to 260 g including batteries)
Face Detection with DigicIII processor (who needs that in 6x zoom anyway?)
MSRP ($250) is below the closing street price of A710 ($250-$270)
& A720's Cons:
No more RAW format and live histogram previously available via CHDK hack in older DigicII processor
Un-cool cheapo look (bright body color, flushed mode dial – not visible now from the front) akin A5xx series
As you see, Pros are numerous, but smallish, Cons are few, but HUGE. And that kinda justifies the prices for last-in-stocks A710's soared to $350 these days.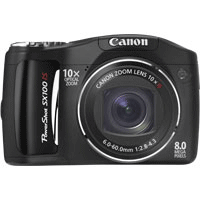 Other Canon's new for 2007 point-and-shooter's include PowerShot A650 IS, SX100 IS ang G9 with notable innovations being:
Introduction of Optical Image Stabilizer (IS) in A6xx series (A650 IS) – the lack thereof preventing otherwise nice A640 to be considered "cool"
Return of the RAW image format in G-series, dropped temporarily in G7
Introduction of color alternatives for non-toy (A4xx) cameras (black & white for SX100 IS)
Now Canon is going to have a chance to make sure people do prefer black for "serious" digicams
reasonable start pricing – $500 for G9 with RAW is way more preferrable than last year's $600 for cut-down G7