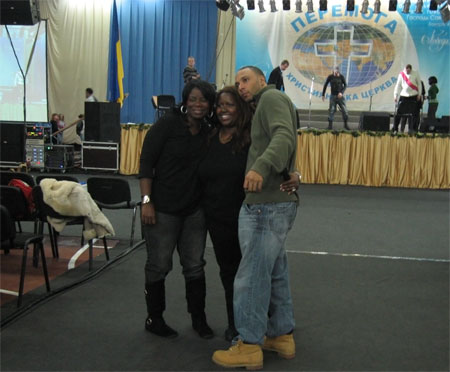 The world famous
Harlem Gospel Choir
gave a concert in a huge hangar of one church in Kiev, Ukraine on November 18, 2007.
Part One of the program consisted of their distinguished hits. Photo/video recording was allowed. I was taking audio capture only to discover in the intermission the recordings had miraculously disappeared from the medium.
Anyway, on to part two.
Part Two featured fancier singers' dresses, Elvis Presley hits and the ban for photo & video. Since there was no ban for audio I chose to test my fortune against again. This time recordings were almost OK.
I only wish they'd turn the volume of the cheapo PA system a bit: even in the middle of the hall I got half my recordings heavily clipped despite the lowest recording level set.
A surprise in "the show" was Christmas presentation (intro [mp3]). See, Ukraine officially celebrates Christmas on January 7, so this was kinda exceptional in the midst of the autumn.
Here are all the Christmas carols from the event:
Joy to the world [mp3]
O Holy Night [mp3]
Of this song only one verse was sung:
Fall on your knees,
O hear the angel voices!
O night divine,
O night when Christ was born!
O night divine, O night,
O night divine!
Go tell it on the mountain [mp3]
And, finally
We wish you a Merry Christmas (and a happy new year) [mp3]
The hosting church was "Victory" church, Pastor Henry Madava.