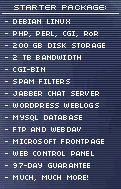 Hello, Happy DreamHost Customer!
In case you didn't pay attention yet, here's an interesting page in DreamHost's Web Panel:
DreamHost Suggestions
Having spent several hours wading through the complete list of registered suggestions myself I've compiled a set which can be (and has been by some) voted for by an individual customer.
Hope you'll find many of the select-features useful to you too and vote for them from within your account. It's easy to search for the suggestions by keyword or by category in the Panel to cast a vote. It will surely speed up development process at DreamHost in the right direction 🙂
Thanks for collaboration!
Date
Category
Suggestion
Cost
2006-02-03
Mail – Discussion Lists
Allow spam filtering incoming mailing list messages.
5 credits
2005-09-08
Status – Statistics
Install mod_cookies/mod_usertrack so cookie info shows up in log files.
4 credits
2005-07-25
Mail – MX Record
Add backup MX support.
5 credits
2005-05-16
Status – Statistics
Offer analog AND awstats and webalizer.
5 credits
2004-12-20
Goodies – Secure Server
Set up ALL domains with a https:// version, even though the certificate would be self-signed and produce a warning in browsers.
4 credits
2004-07-12
New Features
Allow for the creation of one archive of all user content, databases, and even web panel settings.
5 credits
2004-07-02
New Features
Create an API interface to all web panel functions, so customers can automate things with their own scripts.
5 credits
2004-07-01
Status – Statistics
Allow a daily summary email of stats to be sent.
4 credits
2004-06-30
New Features
Be automatically emailed whenever our process watcher kills a process of yours.
2 credits